Online Solutions
Bringing the power of ancient Chinese Herbal Medicine to the 21st century. Our full service online pharmacy and patient-practitioner management solutions create a platform that makes prescribing and purchasing herbs easy for both patients and practitioners.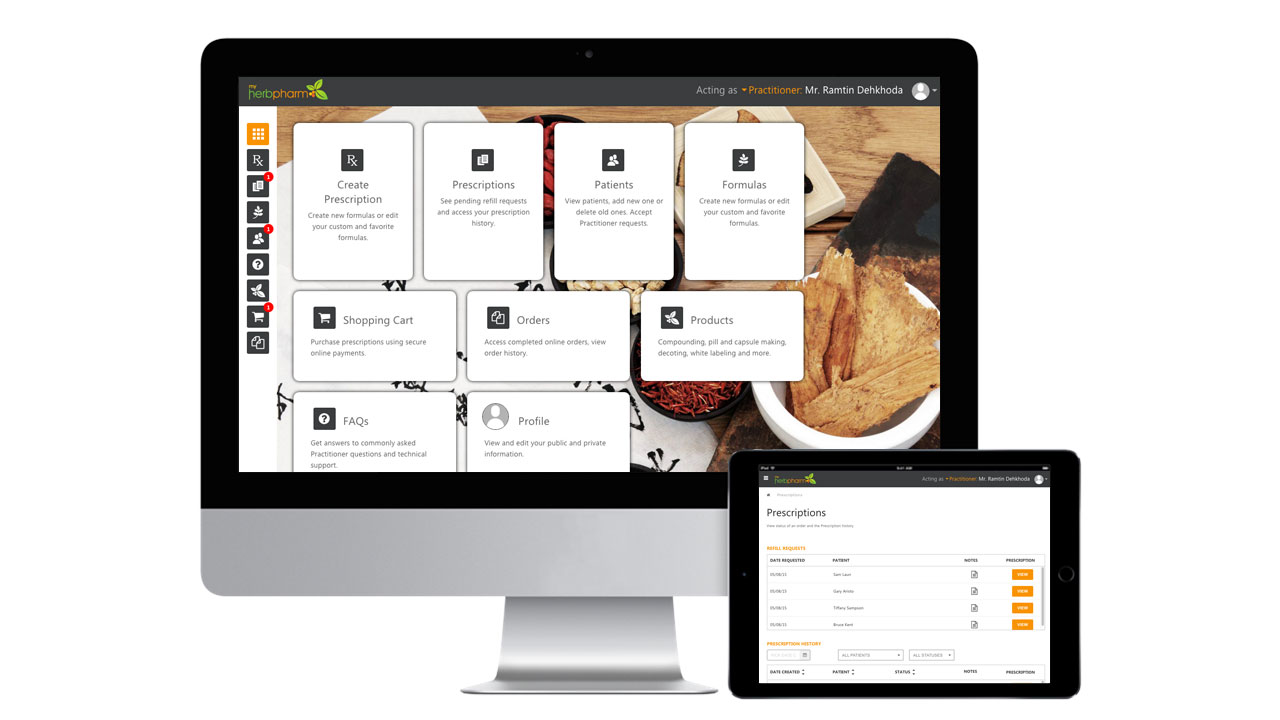 FOR PRACTITIONERS
Welcome To MyHerbPharm Practitioners
The integrity of your practice is our priority. We strive to save you time and money while helping you build a reputation for quick, accurate and reliable service.Our online solutions allows you to create and save custom formulas in under 5 minutes. You can also track your patient's prescription history, orders and progress all from one easy to navigate online dashboard. Your ability to heal others will grow to higher levels as we help you streamline your practice.
PRESCRIPTION BUILDER
This platform will allow you to place all your formula ideas on one board so you can visually add and remove herbs, formulas and even diseases in one place. Practitioners can start by adding multiple formulas and modifications to one sheet so they can analyze their ingredients and suggested dosages provide by our software. Once the sheet is full of herbs, formulas, modifications and diseases, the practitioner can begin adding and removing herbs to customize the formula. We have taken the time it takes to research and write a formula from an average of 30 minutes to under 5 minutes! The prescription builder will then allow you to save your formulas, rename your formulas or create favorite formulas with notes for easy retrieval in the future. Learn More >
CONVERSION
Time- One of the most difficult and time consuming aspects of writing herbal formulas is the conversion process. The obstacle of having to recalculate the dosage of every herb in a formula when a new herb is added, removed or a dosage is changed, makes formula writing frustrating and extremely tedious.
Accuracy- Our software will ensure 100% accuracy when converting your formulas. No more guesswork, rounding or only prescribing in 100g increments. This process will give you and your patients a piece of mind when taking formulas.
Credibility- The credibility of well documented and accurate prescriptions will help you build your practice and help you gain the confidence of referring Doctors, colleagues and patients. Learn More >
FORMULA WRITING
We have removed the headache of the prescription writing process. Our software will guide you in finding diseases, disease patterns, formulas, modifications, doses and finally, it will convert your formulas from Raw to Granular with just one click! Now you will have the time to get CREATIVE and use your time to FOCUS on your patients needs. Once the software has provided suggestions, you have the ability to fully customize the formula to meet your patient's needs. Learn More >

SUGGESTED DOSAGES
We have spent years gathering data from many sources ranging from lecture notes from professors of Chinese Medicine ,Chinese textbooks, online resources such as TCM wiki, sacred lotus and texts such as Benski, Flaws, Macciocca and many other texts and sites. Our suggested dosages are designed to give practitioners a starting point and are provided to save you time from having to refer to other resources for information. The suggested dosages are suggestions only. It is the responsibility of the practitioner to change the dosages based their diagnosis and the patient's presentation and needs.
Disclaimer:
This software and the information provided by this software is for educational and reference purposes ONLY and should not be relied upon when providing medical advice. You should not use the information in place of a visit. MyHerbPharm is not liable or responsible for any advice, course of treatment, diagnosis, dosage or any other information obtained through this site. This site is for informational purposes only, this information is not meant to be medical advice and these statements have not been evaluated by the FDA. This information is not intended to diagnose, treat, cure or prevent any disease. If your patient is pregnant, nursing, taking medication or have a medical conditions please consult with their physician before prescribing a formula.Learn More >
ORDER FULFILLMENT
Our facilities are your facilities! We are your virtual pharmacy. Once your order has been submitted our fulfillment facility will immediately begin making your orders. Learn More >
PATIENT MANAGEMENT
No more file cabinets, bad handwriting and paper cuts! We provide a platform where you can create patient profiles and share information with your patients. Find your patients, their order history and notes about their formulas with just a few clicks. Your patient information and prescriptions history will be time and date stamped for charting purposes and easy retrieval. Never lose a formula, chart or patient information again. Track your orders live and see when your patients have picked up their orders and make notes on how they respond to your formulas for future use. Learn More >
REGISTER TODAY!
Register as a practitioner today to take advantage of all these benefits. It's 100% FREE for a limited time.
FOR PATIENTS
Welcome Patients
Welcome! Create your free account and begin receiving custom herbal formulas. Use our site to find herbalists, receive prescriptions, request refills, manage and organize your prescriptions. With this platform, we hope to open up a world of natural medicine to help you live a healthier and happier life. Our pharmacies will give you direct access to over 700 herbs and medicinals that have been used for thousands of years
Have Prescriptions Shipped Directly To You
Once your FREE account is set up. You will receive notifications from your practitioners about your herbal orders. Once you have reviewed your prescription, you can simply add your formula to your shopping cart and have it mailed directly to you. For your convenience we will also have designated pickup stations where you can pickup your orders.
Find Practitioners
Our database of herbalists is comprised of active practitioners that frequently prescribe formulas. They are categorized by region and areas of expertise. Our ranking system is based on: customer feedback & frequency of use. Use our site to easily find an herbalist that meets your needs. (COMING SOON)
REQUEST PRESCRIPTION REFILLS
Need a refill? Our site allows you to request refills with just one click. Once you have searched your orders and identified the formula you would like refilled, you can simply click the "request refill button" and your practitioner will be notified of your request.
REGISTER TODAY FOR FREE!
Register for your FREE account and start receiving and managing custom herbal prescriptions. With your account you will be able to find herbalists, receive prescriptions, request refills, manage and organize your prescriptions.